The private physical storage serves as a protection from a possible confiscation by any Government Agency
Our facility is equipped with the security, management, and space for all of your bulk storage needs. With all the uncertainty in the world, put your trust in a locally-owned and operated storage facility.
Our modern security surveillance system allows us to monitor your items 24 hours a day, ensuring their security and your peace of mind.
We offer cost-effective and secure bulk storage options for a variety of clients. We specialize in firearm collections, crated art works and other objects too large or valuable to be stored in banks or commercial storage. Our facility is sure to suit your needs and keep your products safe.
Private Vault
TrustWay Securities Hub offers short-term and long-term leases to suit the requirements of private clients, families, offices and business partners from around the world. Our state-of-the-art private vault includes 24-hour physical monitoring,     bio-metric access and licensed security personnel to ensure complete peace of mind.
BULLION STORAGE
TrustWay Securities Hub is a purpose built facility in the Manila CBD built to hold the weight of bullion as well as any other items that you need to keep safe. Each safety deposit box in our private vault has been specifically designed to hold standard international bullion sizes and weights.
JEWELLERY STORAGE
TrustWay Securities Hub counts the region's premier jewellery and gemstone dealers as clients. We pride ourselves on being able to store secure gold, silver, platinum and precious metals as well as all gemstones including diamonds, opals and other rare stones. At a personal level, TrustWay Securities Hub gives unlimited access to your vault 6 days per week during business hours, allowing you to collect those last minute items for special events.
STORAGE FOR IMPORTANT DOCUMENTS
Items such as deeds, wills, and other legal documents are best stored away from the home or office and in a secure, centralised facility. To that end, we work with leading legal and accounting firms to store confidential business documentation. Examples of important documents to store at TrustWay Securities Hub include: Intellectual Property; Birth Certificates; Contracts; Shares/Bond Certificates; Wills; Deeds; and Passports.
GLOBAL VAULTING SOLUTIONS
TrustWay Securities Hub offers a truly international private vaulting solution for safe storage of valuable assets, which can be utilised by clients no matter where they are located.
DATA STORAGE
With the ever-growing importance of and reliance on data, secure data storage has never been more important. TrustWay Securities Hub is utilised by clients throughout the region to securely store private data. Common data storage items include hard drives and flash drives for cold storage data backup in addition to secure data storage for sensitive files. Our smallest safety deposit box comfortably fits 12 x 3.5-inch drives.
STORAGE FOR OTHER VALUABLES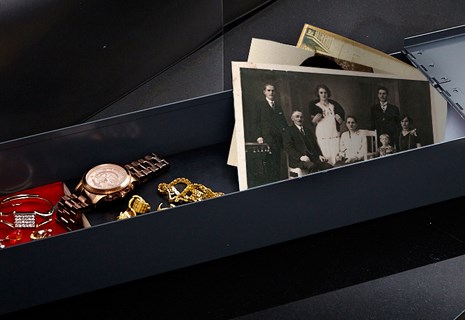 TrustWay Securities Hub is a specialist in securing valuables that simply should not be kept at home. From honorary medals to sentimental photographs and high value items, TrustWay Securities Hub offers short and long term secure storage solutions to suit the full spectrum of client requirements.